Candy Floss Machine Rental Singapore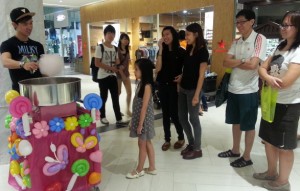 Arts & Carts can help you bring the fanfare home with Candy Floss Machine Rental Singapore.
After all, what better way to add a touch of sweetness than to have a candy floss machine at your event? Cotton candy and celebration go hand in hand, so why not celebrate your special event with something that everybody loves?
 We can provide your venue with a candy floss machine, complete with peripheral equipment and a skilled operator. Our machines are clean, hygienically maintained, and most importantly, produce mouthwatering results! (Oh, and did I mention that they also produce more candy floss each time to satisfy more patrons at a single go?)
At Arts & Carts, our commitment to food safety and hygiene is vouched for by the Ministry of the Environment in Singapore. We use disposable hats, aprons and gloves during preparation and serving. Our industry-leading candy floss machines are exported from the USA and we use only the freshest ingredients for our candy floss preparation.
Affordable Candy Floss Machine Rental Singapore
Our candy floss rental package includes machine setup and operation with skilled operators and servers. No matter the scale of the event, our professional staff can make all your guests are tended to with promptness and professionalism. If you want a competitively priced candy floss machine rental in Singapore, Arts & Carts is at your service.
If you want your guests to have a grand old time at your event, function or party, you can't go wrong with our cotton candy package. If you want to know more about what we can do for you, simply go to the right sidebar on this page, and fill up the contact form or call us now!
Package includes:
Best-in-class machines and ingredients
On-site delivery
Full-time support crew
Certified preparation and service
Fully scalable
What They Say…
No Doubt We've Chosen The Right Vendor to Work With!
I am writing to thank and congratulate Arts and Carts for the wide range of services provided at many of our events. Their efficiency and resourcefulness has contributed to the success of many of our events and our team at The Events Station is in no doubt that we have chosen the right vendor to work with.
On behalf of the team of The Events Station Pte Ltd, I would like to thank Arts and Carts for their efforts. It has been a great pleasure working with you.
- Gwen (Event Manager, Events Station Pte Ltd)
Copyright © ArtsAndCarts.com. All Right Reserved.