Popcorn Machine Rental Singapore
Popcorn doesn't just make movies better, it adds a crunchy deliciousness to any social event!
Whether you're entertaining 50, 500 or a 1,000, Arts & Carts gets the party started with a selection of premium popcorns in a variety of colors and flavors.
We provide well-trained manpower and larger-scale commercial machines that will produce and be able to satisfy more patrons at a single go. It's no wonder we are the number one destination for Popcorn Machine Rental Singapore.
Arts & Carts takes popcorn to a whole new level. Our popcorn is made from the freshest raw corn flown in from the US and we only use flavored popcorn oil. This is what makes our popcorn truly stand out from anything else in Singapore.
While others make do with regular, unflavored cooking oil, Arts & Carts puts a fun, flavorful twist that's as irresistible as exciting. We use top-of-the-range popcorn machines and deliver quality in 12 quirky colors and delectable flavors to wow your guests.
Premium Popcorn Machine Rental Singapore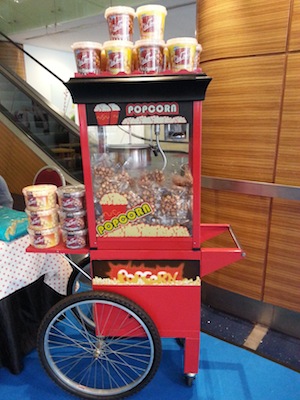 As the pioneers of the rainbow popcorn in Singapore, we're very serious about fun!
That's why we always use disposable hats, aprons and gloves for every event, and prepare and serve our popcorn under the most hygienic conditions. And our staff members are just as well-trained. Our adherence to best practices in food management and service has earned us an esteemed certification in food safety from The Ministry of the Environment in Singapore.
Arts & Carts is Singapore's favorite premium brand when it comes to party snacks. Give us a call for your next event and we'll make sure our popcorn machine delivers fantastic results! Our package includes popcorn machine rental, fresh ingredients, and staff on site to prepare and serve popcorn. Winning attitude free of charge!
Package includes:
Best-in-class machines and ingredients
On-site delivery
Full-time support crew
Certified preparation and service
Up to 12 flavors
Free-flow or pre-packed serving options
Fully scalable
To get started with renting our Popcorn Machine, simple go to the right sidebar on this page, fill up the contact form or give us a call now!
What They Say…
No Doubt We've Chosen The Right Vendor to Work With!
I am writing to thank and congratulate Arts and Carts for the wide range of services provided at many of our events. Their efficiency and resourcefulness has contributed to the success of many of our events and our team at The Events Station is in no doubt that we have chosen the right vendor to work with.
On behalf of the team of The Events Station Pte Ltd, I would like to thank Arts and Carts for their efforts. It has been a great pleasure working with you.
- Gwen (Event Manager, Events Station Pte Ltd)
Copyright © ArtsAndCarts.com. All Right Reserved.